Power Outage is Resolved
The outage on Thursday November 11 at approx. 7:30am has been resolved.
ADAPTIVE REUSE: FORMER BELL BUILDING TURNED LOFTS
CoreLofts was originally a Bell Canada office building and was built between 1975-1977.
In 2003, the building was converted into condominiums by builder Alterra-Finer Ltd.
Alterra advertised the residence as "New York Lofts" and individual suites are named after New York City districts/landmarks; the black and white photos across from the elevators on the main and 8th floor are pictures of famous New York buildings.
The first owners moved into the building in December 2004.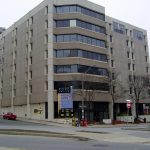 Emergencies include: fire, flood, loss of heat, power failure, broken locks or security concerns.
Call 9-1-1 first for any life threatening emergencies or crimes in progress.
Then call: 1-800-471-4759 ext. 804
The Property Manager is the first point of contact for residents/owners for common element area concerns.
The Superintendent's duties include common element maintenance, booking the elevator or party room and is the on-site contractor liason.

Emails are the preferred method of contact. Please call to access the elevator for a move or to open the party room.

Please call the Emergency number above if there is a flood, loss of heat or power failure.

Fires must be reported to 911, then call the number below.
The guide contains of information about the building and its amenities.